Saving Costs With Crastin® SF
Crastin® Super Fast (SF) dramatically reduces manufacturing costs by reducing cycle times by enhancing resin flow to extremely high levels.
Crastin® SF has been developed for high volume mouldings where every second of the cycle time counts. Using patented technology, DuPont™ has designed a series of grades that can be cycled much quicker from shot to shot, with minimal impact on the final product properties.
Available in unreinforced, 15% glass filled and 30% glass filled grades, Crastin® SF can reduce melt temperatures by 5-10°C, reduce hold pressure times due to its advanced nucleation properties, reduce cooling times as it reaches its ejection temperature quicker and fill tools quicker due to its reduced viscosity.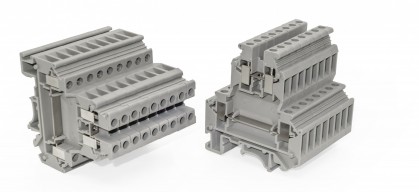 Mass produced electrical connectors need the speed and efficiencies of Crastin® SF to produce more parts per hour to be competitive.
Spotlight on Crastin® SF
Improves productivity by up to 30%
Reduces machine size due to lower filling pressure
Wider processing window
Improves flow to fill moulds for thinner or more complex parts
Excellent property retention: stress, strain and impact, thermal stability etc.
Lower energy consumption
Lower rejection rate
Direct drop-in replacement for standard PBT grades
Application areas for Crastin® SF
Connectors such as thin, complex, small parts running in high productivity tools
Automotive electronic components such as sensors, relays, control units
Coil formers and solenoids
Laser marking parts
Motor housings, switches, door housings, automotive lighting components
Structurally complex parts for furniture and automotive chassis
Thickness and weight reduction in parts with thick walls
Crastin® Super Fast – reduce your carbon footprint
With the challenges to reduce our CO2 footprint, Crastin® Super Fast can help contribute towards this in the following ways:
Reduce the time taken to produce a batch of moulding equalling less energy usage
Improved flow means you can fill parts with less pressure again using less energy
Improved flow means you can design your parts thinner so less polymer content per part
Potentially use a smaller injection moulding machine with less pressure requirements
Other features of Crastin®